Jonathan Casey Symphonic Music Samples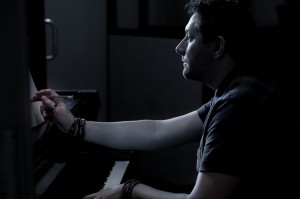 Given the option, many film makers would love to have a real orchestra or live ensemble perform the score on their movie. If the budget allows, you need someone who knows how to compose and arrange great music, orchestrate it properly and manage sessions with live players, to bring you the perfect recording….'that's me', is what I'm saying!
I have composed music for and worked with orchestras many times. But when the budget doesn't allow for live players, you need someone with the best samples and the know how to use them effectively. Guess what, me again. So here are some live orchestral pieces performed by real people and some other orchestral pieces, played by little men that live in my PC.
The Great Hunger – Large String Orchestra
This is a piece I wrote for a film called "Home" (Dir. Luke Leslie), which deals with the Famine in 19th Century Ireland. I loved the film's storyboards, illustrated by Matthew Shiell, so I asked him could I assemble a video from those incredible images. I always love when a seemingly happy musical motif manages to evoke sadness; this is my take on that phenomenon.
Boy Soldier Main Theme – Big, Melodic March
This is an excerpt from the RTE Concert Orchestra's performance of my theme for Boy Soldier, conducted by David Brophy. For this score, I had the chance to whistle the theme on one of the cues, like The Good, The Bad & The Ugly, result!
Hero Main Theme – Modern, Dark, Thriller TV Theme
Here's another big theme about a brave individual, but the opposite in almost every way! This is a dark, dramatic theme for an extremely unlikely hero; the musical language here is TV thematic, no live orchestra this time, the instruments are me and a PC. Quintin Ahern wrote to me with the script and he also had the idea for the fast ostinato bass figure, and off I went! The 'hero' in question makes Rorschach look like Robin, so this is meant to convey a superhero theme 'gone wrong' as we say in Ireland.
Collision Waltz from STALKER – Classical Waltz
Director Mark O'Connor brought me on board to write some orchestral music (and one seedy disco song!) for his film STALKER, which was released in cinemas 2014. One sequence was a montage that included scenes of a flamboyant and chillingly evil villain (portrayed by Love/Hate's Peter Coonan) waltzing around his barber shop. I thought it would be good to keep the music sounding as if it was an existing classical piece, rather than score that was being written to picture – to give it that Stanley Kubrick vibe!
I wrote this piece for a US concert tour by the Dublin Philharmonic Orchestra, celebrating Irish America. So this features Uilleann Pipes, high emotions and a wonderful performance by the musicians and conductor Derek Gleeson. This recording was from their show in San Diego. Stay classy!

Trailer Music for Irish Action Film
I composed this music for a brilliant 'trailer' for a full-on action feature in 2014 – but the feature itself has not been completed (the trailer has been designed to secure funding to complete production). It's gonna be a good one folks!.The production values are very high, so the music has to be equally as punchy and modern. Trailer music is a different beast – it's pretty extreme, have a listen.
Action Cue – Classic Hollywood Style
Here's an action cue from Boy Soldier, performed by the RTE Concert Orchestra. This is in the classic Hollywood style (like Goldsmith or Korngold).
For many directors working on a project, the budget for a live orchestra just isn't there. Here's the alternative: I have the best sampled instruments and the 'know how' to use them effectively and quickly.